Shana Stark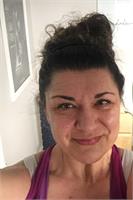 Shana is a Certified Pilates instructor since 2006. She received her Classical Certification with PMA sanctioned Whole Body Method in Los Angeles. Shana has a passion for blending the art of classical movements with developing athleticism of the body. She began classical ballet as a young girl and studied dance through college. She began Pilates to build muscle strength, improve flexibility and posture after becoming a mother of two boys. Shana decided to become a Pilates instructor because she went through her own transformation and loves helping others do the same. She enjoys creating strong workouts tailored to the individual by focusing on muscle strength, tone, definition and flexibility. She understands how to motivate clients, encourages them to do exercises they never thought possible. Her clients achieve dramatic changes and together they enjoy seeing the results.
Shana Stark instructs the following:
The Group Reformer Class utilizes spring-controlled resistance to build core strength, increase flexibility, endurance and coordination. The result is a strong, yet flexible, well-toned body, without muscle bulk. All exercises are done on the Pilates Reformer.

These classes tone and strengthen the whole body! You will feel energized and see results!

Group Reformer Classes are up to seven people in the class.
- All levels are welcome.